Facts
FAQ - Safety - About us - Press
Frequently asked questions
What should I wear? We recommend light cotton clothes. It is important to wear shoes that are possible to "close" by the foot. Please do not wear flip-flop sandals. If you are not wearing any of our helmets you should have something on your head. Beach attire is not permitted.
Isn't it too hot to cycle in Bangkok? Thailand is situated in the tropical zone and it can be really hot. But you will be surprised that it is not hot to cycle. You always get a nice breeze from the speed, when biking.< It is a lot warmer to walk than cycle.
Is it dangerous? All our tours are planned to minimize the exposure to the traffic. Most of the routes we are using have no traffic at all. And if so we use the pavement. Of course it is important to keep the focus when cycling and respect the signs and instructions from our guides.
Is it a physical test to participate in your tours? Not really. Generally our tours are planned to suite anyone. But if you never bike at home you might get tired and feel it is a bit tricky. Luckily, Bangkok is flat, so we will not climb any hills.
Is it necessary to book in advance? Yes it is. You should book at least two days before you want to go. But if you need to be sure there is a place for you it is better to book well in advance, to avoid disappointments.
Is it possible to use camera or video during the tour? Of course. When we are biking you should keep your hands at the bar, but we will have several stops and give you many chances to take photos.
Are there any mosquitoes or other unpleasant animals? In Bangkok we have mosquitoes, but they usually appear along with the darkness. In Thailand there are a lot of different animals, but no one that will make the tour unpleasant for you.
What kind of bikes are we using? We use modern city-bikes. Hand breaks only, no coaster breaks. 
If it starts raining……? Rain is rare in Bangkok. It is actually hard to find a better place for biking according to the weather. Anyway, if it is raining heavily, we have a break and wait. Usually it stops after 20 minutes. So far we had only five trips in fifteen years been cancelled because of rain. Even if it is raining, please come to our office where decision is made of any delayed start.
Size of the group? Minimum 2 people, maximum 10.
What language is the guide speaking? We always have a guide talking English. Scandinavian and French languages are options on demand.
Is it possible to bring my bag? Yes, but try to limit your things. It is possible to store your things at our office.
Safety is of course a priority in this business. Not everybody dare, not everybody want to but almost everybody can participate. Our guides take responsibility that the group is traveling the safest way. 95 % of the time we are biking in streets, paths, pavements where cars do not exist. If you are capable of keeping the balance it should not be any problem for you. If you want to wear a biking helmet, we will provide one for you. We allow children to bike with us, but recommend children to be at least 10 years old to cycle by their own. Younger kids can follow from the back-seat or a special safety seat for small children. 
At first, to bicycle in Bangkok seems to be something like a mission impossible?, but everyone traveling with us will be surprised how smooth and easy it really is. Bangkok is flat like a pancake and the pace and distance will never break you down. We provide drinking water and soft drinks to keep the hydration in shape. None alcoholic drinks will be served though for safety reasons. We will travel at a relaxed tempo and have plenty of stops. The heat is usually not a problem when you are biking, thanks to the wind you create by cycling. 
We use simple but functional city-bikes, for which you can adjust the saddle suitable for your height. We check the bikes daily before using them, which guarantees full functionality. In case of, for example, a flat tire, we have spare parts to solve these kinds of problems along the way. The Bangkok By Night trip require special safety gear, like vests, helmets and lights for everyone. Bangkok By Bike will arrange an accident insurance for all the customers that deliver required details.
Our philosophy
Our goal is to give all our travelers an exciting and memorable experience We want to give all our customers an insight and understanding for Thai culture as a way of living We want to protect the local community we cycle through, we travel in small groups and in a way that won't affect the local people in a bad way.
History
Bangkok By Bike is a Thai-Scandinavian company in Thailand specialized to give travelers in all different ages a real experience of Bangkok. It started back in 2004, at the beginning as a Danish project. Meanwhile the Dane got some help from a Swedish friend. As members of Thai Bicycling Club they started to find nice routes. After a while they started thinking of letting tourists come along on a professional tour and Arne Wilhelmson founded the company in 2006 together with his wife.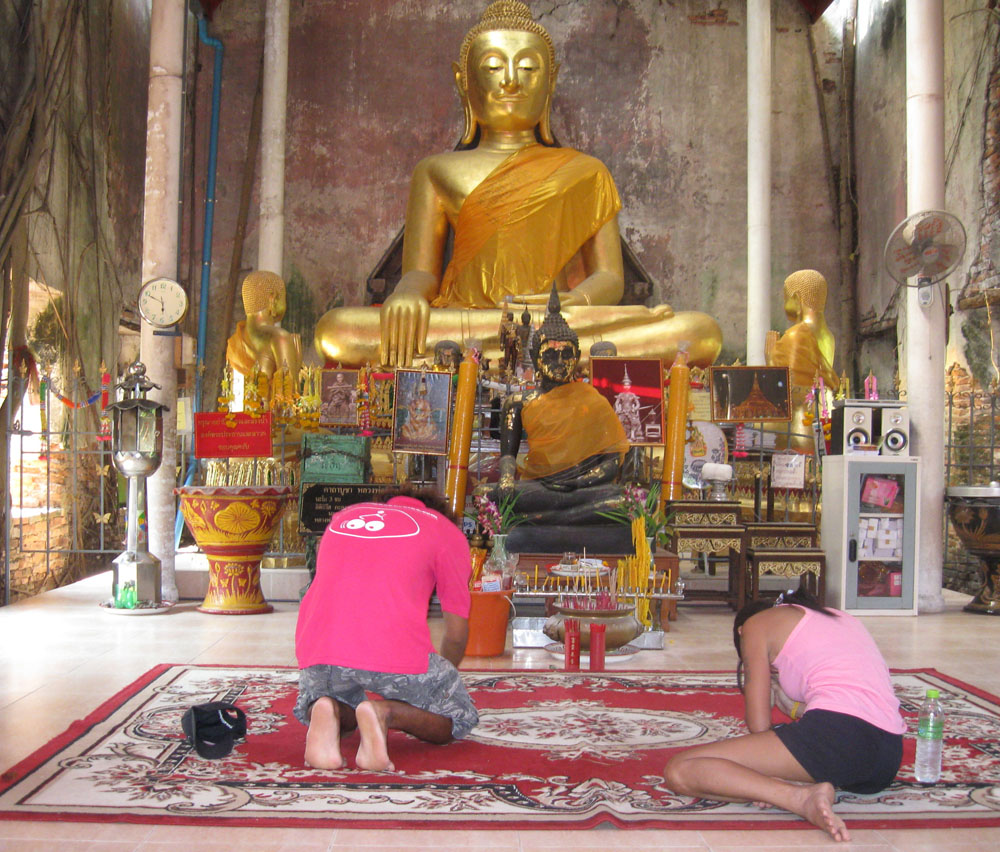 Press
Cykeltur med fuglefløjt i Bangkok 2013-11-01 Dagbladet Børsen borsen Danskt Dagblad
Full rulle på to hjul 2012-10-17 Magasinet Reiselyst reislyst.pdf Magasinet Reiselyst, November 2012 Norskt resemagazin
Hjemmets beste Bangkok-tips 2012-10-13 Hjemmet Hjemmet-2012.pdf Norska veckotidningen Hjemmet, v 44 2012
Bangkok By Bike 2012-09-25 Scandinavian Bulletin scan-b.pdf Scandinavian Bulletin May/June 2012
Bangkok – det nya New York 2012-03-25 Travel Beyond travel-beyond.pdf Travel Beyond Explorer, nr 1 2012
Att trampa nya stigar 2012-01-29 Kvällsstunden kvallsstunden.jpg Kvällsstunden, nummer 4, januari 2012
Svenskarna i Bangkok 2011-12-23 När & Fjärran N&F.pdf När & Fjärran, Svenskt resemagasin, nr 6 dec, 2011
Bangkoks bagside 2010-12-18 Jyllands-Posten jp10-14.pdf Jyllands-Posten, dansk avise, 18 december 2010
Guidad cykeltur i Bangkoks heta trafik 2010-12-14 Vagabond vagabond.jpeg Vagabond, svenskt resemagasin Nr 10, december 2010
På to hjul i Bangkok 2010-12-06 Hjemmet Hjemmet-2010.pdf Norska veckotidningen Hjemmet, nummer 49, december 2010
Bangkok – en cykelstad! 2010-02-15 cykling.pdf Tidningen Cykling, nr 1 2010, Cykelfrämjandets tidning
På to hjul i Bangkok 2009-11-19 Se & Hör, nr 92, 17-20 november Se&Hör.jpg Från resebilaga i Se & Hör, norsk veckotidning
På to hjul i Bangkok 2009-11-09 Hjemmet, nr 46, 9 nov 2009 Hjemmet.jpg Hjemmet, norsk veckotidning
Bangkok By Bike 2009-11-17 Scand Asia S-A1-A3.pdf Scand Asia – Bangkok By Bike Scand Asia, Number 11, November 2009
Cykla i Bangkok 2009-06-01 ThailandMagasinet tm.pdf Thailand Magasinet, Nr 3 juni 2009 – Livsstilsmagasin om Thailand
Ut och cykla 2009-02-14 Expressen Expressen.pdf Expressen, 14 februari 2009
På tur till Thailand 2008-12-20 Jyllands-Posten Jyllandsposten.pdf Jyllands-Posten
Arne cykelguidar 2008-10-05 Tidningen Vi TidningenVi.pdf Tidningen Vi, Nr 10 oktober 2008
På to hjul i Bangkok 2009-02-12 Zine Travel – norskt resemagasin zinetravel.pdf Zine Travel, Nummer 1 2009
Bangkok på två hjul 2008-11-23 Svenska Dagbladet zinetravel.pdf http://www.svd.se/resor/nyheter/artikel_2079793.svd
Upptäck Bangkok på cykel 2008-11-19 bortabra.se – Din resetidning på nätet zinetravel.pdfhttp://www.bortabra.se/Asien/Upptack-Bangkok-pa-cykel.html
Bangkok på två hjul 2008-08-28 Aftonbladet Aftonbladet_080828_4[1].pdf Aftonbladet, 2008-08-28
Bangkoks guldkorn 2008-01-29 Vagabond Vagabond.pdf Vagabond, Nummer 1, 2008 (kort version)
Guidad cykeltur i Bangkok 2008-01-05 Barometern OT OT[1].pdf Barometern OT, 5 januari 2008
Arne ute och cyklar 2007-12-16 Svl Tidning SVL.pdf Sundsvalls Tidning, 16 december 2007
Skön tur på cykel 2007-12-10 BLT BLT[1].pdf Blekinge Läns Tidning, 10 december 2007
Bangkoks guldkorn 2008-01-05 Vagabond, nummer 1, 2008 BLT[1].pdf http://www.vagabond.se/vb/reportage.aspx?id=62543
Skön cykeltur i Bangkok 2007-12-09 Gefle Dagblad 9 december 2007 BLT[1].pdf http://www.gd.se/Article.jsp?article=120467
På cykel i Bangkok 2007-12-09 Corren, 9 december 2007 BLT[1].pdf http://www.corren.se/archive/2007/12/9/jhtw6fvjzipoxxg.xml
Djungelbangkok ur cykelperspektiv 2007-11-05 Thailands-Posten Djungelbangkok.pdf Nr 4, november 2007
Fem tips om Bangkok 2007-11-28 Svenska Dagbladet SvD.doc Svenska Dagbladet 28 november 2007
G-Kraft 2007-11-07 G-Kraft cmd=artikel&id=160[1].pdf G-Kraft, Sveriges flygportal
Cykla – Bangkok By Bike 2007-09-15 Tidningen Cykla Bangkokbybike[1].pdf Nummer 3, 2007
Vi – Cykla med Arne, Bangkok Tidningen Vi Artikel VI.jpg Juli-numret 2007
Cykla i Bangkok 2007-04-07 Corren LördagSöndag corren_lor_son_7-8_april_2007_ver2.pdf Corren LördagSöndag 7-8 april 2007
Bangkok annorlunda 2007-02-17 GuavaJuice GuavaJuice-Bangkok_annorlunda.pdf Artikel från http://bkkguava.com
Med postis genom Bangkok 2006-12-03 Borås Tidning boras_tidning_061203.pdf Artikel i Borås Tidning